Size Guide
What size am I?
Generally our sizes are average.  For example, if you usually buy a size Medium, then our size Medium should suit you.  To ensure the best fit for you we have included information about the exact size of each garment.
Most upper body garments (such as T-Shirts and Polo Shirts) will have a size measurement called  the half chest.  Lower body garments such as trousers will have the waist measurement (either full waist or half waist) and sometimes the leg length.  We provide as much information as possible so that you can buy with confidence.
What is the Half Chest Size?
All sizing is in centimeters (cm) and represents the half chest measurement, from armpit to armpit, across the garment when laid flat.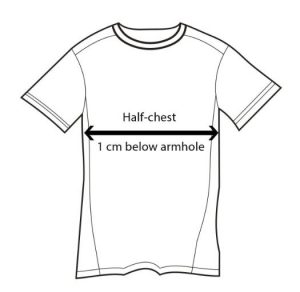 How do I know which size?
To check a size, the best thing to do is find a similar garment that you already own (T-Shirt, Polo or Hoodie etc) that fits you well, lie it down flat and measure it from side to side.
Then match up the measurement to the size guide given for the garment.  Note that some styles are more fitted than others, so take this into account when choosing your garment for comparison.